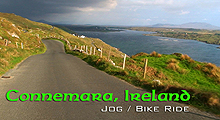 See the photo above with the narrow winding road beside a lake? You could be "biking" on that scenic road in Scotland this very afternoon!
Using your indoor bike, you could be cycling through beautiful scenery in Ireland, Scotland, Maine, or Southern California.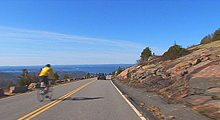 No more boring same-old, same-old exercise sessions. Just select one of our Biking Scenery Downloads, and after your download is complete, you'll feel like you're biking on Maine's scenic Mt. Desert Island, or in the middle of beautiful Connemara, Ireland or beside Loch Etive, in the Highlands of Scotland, on a clear spring morning.
We're constantly traveling the world to film new Bike Scenery Videos for use on your iPad, Tablet, Computer, or DVD Player! We've already filmed Bike Scenery Adventures in Ireland, Scotland, Maine, and California, and soon we'll have Biking Scenery Videos filmed on Mississippi's Natchez Trace and in Louisiana's Bayou Country.
Now you can enjoy every minute of your indoor biking session with these hour long Downloads or DVDs filmed in Widescreen and accompanied by the natural sounds - in Dolby Stereo - just as they were recorded on site.
---